VENUS INDEX PROGRAM CATALOG
Foundational Programs
The Venus Factor System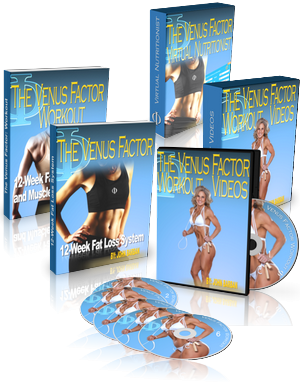 Looking for a good workout that will help you build your dream body, but not sure where to start?
You have come to the right place, because the Venus Factor System is the essential diet and fitness tools you need to get the body you want, while still being able to enjoy your life to its fullest.
You see, most programs for women don't address the real issue of shaping your body. They are either based only on diet and some abdominal work or work out your whole body the same way and completely neglect the most important factor – your naturally attractive shape.
It's absolutely crucial you make it a priority to aim for the your best shape based on your current body proportions and have a workout plan that is structured in a way that does this for you.
This is why the Venus Factor System is the number one choice for women who want to create an ideally proportioned body either at home or at the gym. No fuss, no wasted effort.
This is a 12 week workout and fat loss program. It is designed to get you started with life changing skills to help you get into the shape you have always dreamed of and keep it for life.
To get started at home all you need is a bench, a variety of dumbbells, an ab wheel, and a stability ball. Once you get started in the online community you can get a lot of other ideas on home equipment to add more variety and fun to your workouts.
Immersion
Immersion is our flagship product for increasing your results.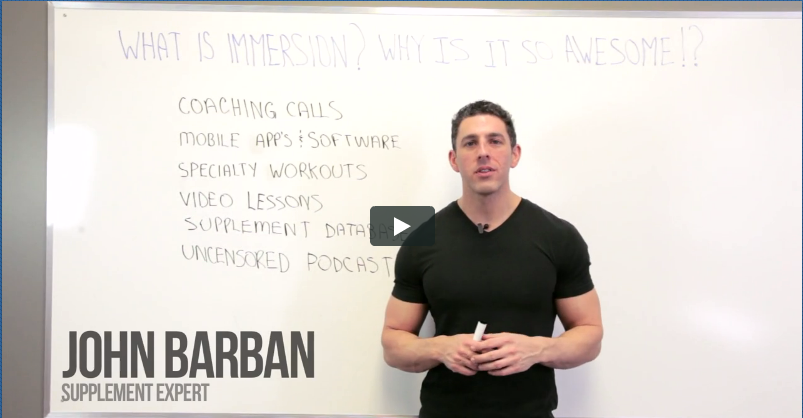 Here's what you get:
Personal attention from John Barban himself (our supplement insider and training expert who has decades of experience), who will help you solve your individual problems that might be holding you from achieving the ideal physique
Mobile apps and other cool software that will keep you connected with us and make your life and all the fitness stuff easier
Specialty workouts that are build for your individual goals
Video lessons to help you learn advanced technique and perfect form
Premium Access to the Paid Supplement Database from Renowned Natural Standard - These will come handy whenever you will want to learn the truth about any ingredient or supplement. You should always check before taking new supplements (may not be worth it), and once you get access to immersion, first thing you should do is to check the supplements you are taking right now, you might throw them out after reading the science on them
Instant access into the elite areas of the Venus Index Community
Over 100 Premium UNCENSORED Podcasts (access to past, present and future seasons as well) - This is what we are famous for (apart from our ridiculously amazing transformation pictures). We bring the brightest minds together and discuss the latest supplements and science findings (we don't read articles from journalists, we prefer to go right to the original source - the people doing the research). Want to know what marketing claims are BS? Want to know who is on drugs? Come and joins us this week for another episode of the uncensored podcasts and we will tell you
Access to Covert Nutrition Videos
Nutrition Calculator - With this really cool piece of software nutrition and losing fat will be way easier
Access to all the workouts - VF system, Phase 3, Advanced Series, plus the circuits and the boosters!
Tracker - Tracker is a sophisticated software allowing you to log your fitness progress and track it using our sleek graphs.
In a nutshell you get everything that's under the VI brand and all the future releases for one payment.
Are we crazy?
Maybe, but we also know that if you get this package, you will get insane results. For example, I bet you didn't know that all of our contest winners have Immersion.
We will always be adding more awesome content to this package, however that means that the price will keep coming up. We have done this several times in the past, each time almost doubling the price and the girls were always regretting not acting on it sooner.
So take the offer today and save yourself some money and frustration in the long run.
Take advantage of the knowledge John Barban and Brad Pilon (and other team members) gained while studying exercise physiology and Human Nutrition at University of Guelph. Learn from their successes and failures from the past 15 years of hard and intense training and listen to their behind scene insights from the work with supplement companies and professional bodybuilders.
On this page you will find everything you need to successfully lose fat whether it's 50 pounds to get lean or 5 pounds to get contest ready, also you will find here the best workout designs ever created specifically to help you build your ideal body shape.
All advice is backed up by solid research, tailored to your current experience and your goals and usually comes with a risk free guarantee.
The Original Venus Index Systems are recommended first, the following are additional products or next level workouts for the VI members, alone they might not be as beneficial or if you haven't gone through the original workouts, they might just be too difficult for you, so we really recommend the VI system first.
Also, here's a tip: Instead of buying program by program, we encourage you to check out Immersion - get everything (even future program releases) at once and save some money at a same time. Scroll up to read the description and see the offer.
Additional Programs for VI All part of the Immersion Package
Elite Community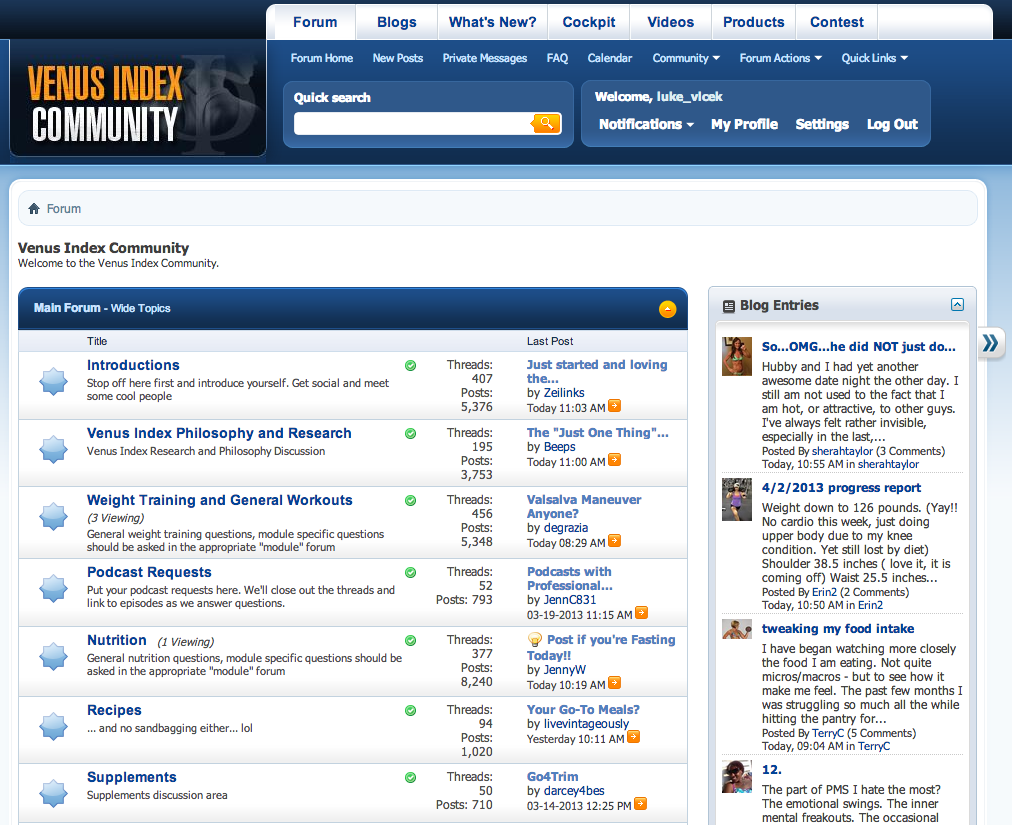 Introducing the best feature of Venus Index – The most honest and friendly fitness community in the world!
"If it wasn't for the community I would never have won the fitness contest" is a common thing to hear from our contestants. The Venus Index community is a strong a supportive community of strong supportive women.
A positive supportive community of like minded individuals is the key to success, nobody can do it alone.
Membership in this community will give you a rich environment full of caring, motivating and supportive women just like you. You'll find quick answer to any of your questions with different perspectives and approaches from multiple members. There are hundreds of past threads that will most likely hold answer to any of your basic questions. You will make great friendships and find new life opportunities. Many of our members have even meet up with each other in person and have formed bonds and friendships that have endured for years.
Join the Venus Index community and discover a new world of supportive dynamic women and you might just find a new lifelong friend.
And the best part? Buy ANY VENUS INDEX system and get access to the community for free!
Here's the login for VI and Immersion members:
If you are not a member scroll up to check out the offer.
Venus Index Circuits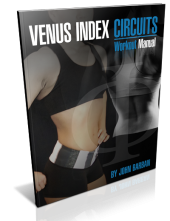 Venus women are busy women. That's why our team designed Venus Index Circuits: to give you an incredibly effective way of burning fat and toning your entire body without wasting time or energy.
We get it. You don't have time for long cardio sessions (who does!) or hours in the gym. The good news is that you don't need to. In fact, we'd advise against it.
Take our advice and click now to get instant access to the Venus Index Circuits, our exclusive circuit-training system designed for clued-up women like you who don't want to compromise on results.
Our exercise specialist John Barban has designed a program using scientific fitness principles proven to maximise the way your body responds. Venus Index Circuits can be done in three or four sessions per week and build over three levels to ensure your body never gets complacent. You'll work, you'll sweat, and you'll see results, but you definitely won't plateau!
Discover how to drop pounds and save time. Click here to access your own Venus Index Circuits download. Work through the circuits week-by-week, mix and match, or add in the exclusive mini-circuits, only available right here.
Venus Index Phase 3 Workouts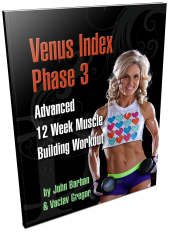 Venus Index Phase 3 is the most intense fat burning body shaping workout yet. Maybe one day we'll develop something tougher, but right now we can't imagine what that could be! Are you ready to get introduced?
Phase 3 is a 12-week strength training program which will challenge your body through 3 distinct, progressive modules. Each stage features different rep and set schemes with direct links to instructional video clips. Every single workout has been meticulously designed by experts John Barban and Vaclav Gregor to give you the results you deserve for the ultimate commitment to Venus Factor training.
If you were stunned by the way the main Venus Factor system blasted body fat and shaped your physique, you are not going to believe the results you get from Phase 3.
It's not for everyone, we admit that. You'll need to give a bare minimum of four days a week to the workouts, peaking at five days a week at points throughout the program. Like we said, Phase 3 isn't for everyone. But if you're ready to take the challenge, you will be rewarded with a leaner, tighter body than you ever thought possible.
Ready? We'll be right here with you. Get started by clicking here to access your Phase 3 download.
The Venus Factor Final Phase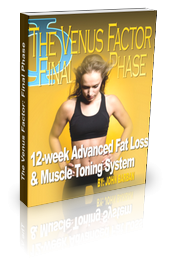 Welcome to the final 1% - the Venus elite. Venus Final Phase unlocks the secrets of taking your training and nutrition to the next level with information gathered from science, research and years of Venus community success stories. It's the ultimate Venus lifestyle resource for women who aren't prepared to leave any stone unturned.
John Barban's 12-week training and nutrition plan allows you to dig deep and uncover your potential. Get access to two exclusive pyramid training routines and Venus supersets which can be combined with your other Venus workouts and done at home or in the gym.
Make no mistake, Venus Final Phase's advanced fat-loss and muscle toning techniques aren't for everyone. Venus Factor Final Phase is only for women who want to close the gap and achieve their ultimate physique.
Discover insider tips to lose those final inches, develop your personal eat-up day pattern and blast through plateaus. Some women are surprised at the secrets we reveal here. It's the kind of stuff you'll use for life. Are you ready to make the commitment?
If you're ready right now to take it to the next level, click here to download your own Venus Final Phase resource.
Slim in Seven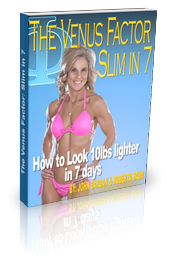 The Venus system is a way of life. But what happens when you need to make quick changes to your physique for a special occasion? We're here to help with the Venus Factor Slim in Seven: our magic formula protocol for amazing results in one week.
Want to feel and look your best at that party, wedding or other special event? Are there going to be photographs taken (or even video footage)? Social media makes it so easy for guests to pubish photos and video clips (and tag you in them!) You want to be confident that any photo taken of you, from any angle, will look great.
John Barban, along with Venus Factor's own Roberta Saum, have designed this step-by-step manual to provide you with everything you need to tighten up in just seven days. The system is based on the approach fitness competitors and physique athletes use for competitions and photoshoots. John and Roberta have discarded the practices they know aren't worth it, and have added in little-known tips and tricks which will work for you. It's all here: from meal timing and water manipulation, to posing secrets and exactly what to do in the final 24 hours. We'll guide you through every detail of nutrition, workouts and final preparation for a full seven days (with your event falling on the eighth day).
Unlock the secrets of the Slim in Seven protocol now and get started right away. We've got it covered.
Venus Index Specializations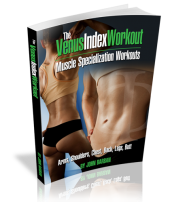 To really fine-tune your Venus Index sweet-spot, you need a workout system designed for your body's individuality. Ever noticed how some of your girlfriends have great legs and butts, whilst others have tiny waists or toned arms? You have your strengths (and trouble areas), too. Everything about your body is unique.
Venus Index Specializations evolved from the realisation that every woman needs a different workout plan to close in on her Venus body. John Barban has designed his best-ever speciality workouts for the arms, back, chest, legs, shoulders and butt (have you spotted your personal troublesome yet?) Add these extra sessions into your existing Venus workouts or design a week of body part blasts!
Only by choosing your individually tailored set of specializations will you truly be able to tackle stubborn areas of fat and lagging body parts. If you've ever thought you can't do any more to alter your body shape, think again. We'll show you how to work with (not against) genetics.
Download Venus Index Specializations today and uncover the workout secrets which match your body type.
Cookbook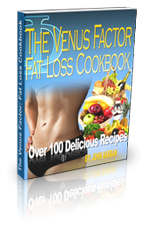 Fat loss the Venus way is not a quick-fix gimmick. It's fat loss for life. So we don't expect you to drink meal replacement shakes and live off crazy diet foods. We want you to eat real, nourishing meals made from nutrient-dense ingredients. To put it simply, we want you to eat in a way you can sustain for life.
Our ethos is that fat loss is achieved by small, consistent changes which fit easily into your lifestyle.
Download the Venus Index Cookbook to discover common home-cooked meals, family favourites, special occasion recipes, and even desserts done the Venus way. The focus is on meals you'll feel comfortable preparing, cooking and eating for life. There's plenty of variety and some new ideas to try. All feature lower-calorie swaps which demonstrate just how simple fat loss can be when you know the recipe!
Click here to download this book of delicious, simple recipes which will show you just how easy it is to eat for fat loss. What will you cook first?
Meal Plans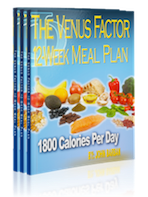 Cut through the diet confusion. No more guesswork or endless number crunching. We've made it simple for you with these specific 12-week meal plans!
Nine separate programs designed to help you live the Venus fat loss lifestyle with no fuss.
Venus women know how crucial nutrition is to chasing down lean body and little waist of the ideal Venus body type. But it's easy to get confused by conflicting diet advice and torn between popular protocols.
Get right to the nutrition which will work for you with these plans which have been specifically designed to work with the Venus approach. There's no need to look any further.
It's all here: exact meal plans, macro and calorie breakdowns, meals and snacks. Now you've visited the Venus Virtual Nutritionist, you know what your start point is. So you can go ahead and get started with our exclusive meal plans. Choose from one of nine separate programs tailored to suit your caloric needs (from 1000 calories per day through 1800 calories per day) then download the Venus meal plan recipe book.
You're going to be blown away by these recipes. There's no need to eat cold, bland food out of tubs. Forget everything you think you know about lean eating meal plans. Sure, you'll be losing fat, but you won't be losing your mind.
Each meal plan gives you an exact blueprint for 12 weeks of meals and snacks. You'll find calories, protein, fat and carbohydrate breakdowns for every meal and every day. We'll talk you through how to use carb cycling, refers and higher carb days to keep the fat loss coming.
The 12 week meal plan recipe download features 20 simple breakfast recipes, 54 easy lunch or dinner recipes and 3 awesome snack recipes each with precise macro breakdowns.
All you need to do is find the meal plan which suits your caloric needs, hit download and get instant access to the easiest fat loss diet you've ever seen. Your energy levels and motivation will stay high whilst you lose body fat!
Uncensored Podcasts
Welcome to the Venus Index Uncensored Podcasts, where we get to grips with the topics which matter most.
Why treat yourself to the Venus Index Uncensored Podcasts?
Our team of fitness and nutrition experts needed to find a way to keep track of the amount of new information they generate. The combined brainpower and experience of these guys and girls has to be seen to be believed. Every day they thrash out some new theory, system or secret which fits the Venus lifestyle perfectly.
It was listening to one of these team conversations which made us realise: we need to record this stuff!
And that's exactly what we do in the Venus Index Uncensored Podcasts. This is our experts, unleashed, no holds barred, talking about the very issues and challenges which members of the Venus community face every day.
That's why you need to click here and start listening to the Venus Index Uncensored Podcasts today. Every single episode will give you a new piece of information, an idea or a solution to a challenge you're facing. Skyrocket your knowledge by downloading your first Venus Index Uncensored Podcasts today.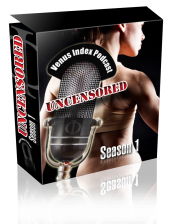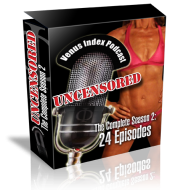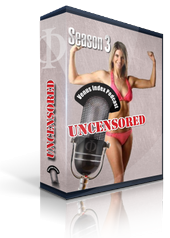 Advanced Strength Series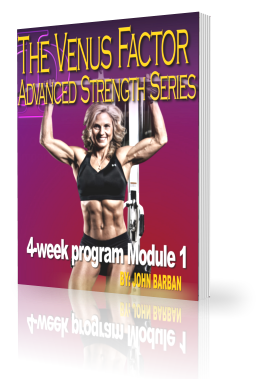 Venus women know how incredible strength workouts are for shaping a lean, tight physique. Now you've fallen in love with weight training, take it to the next level with our Advanced Strength Series.
We don't need to tell you that strength training won't make you big or bulky. So let's skip right to the good stuff: four amazing strength training programs designed to build on what you've already achieved with the Venus Index training and nutrition plan.
Here's our workout expert John Barban at his very best, guiding you through three weekly workouts to build strength and sculpt every body part. Our Advanced Strength Series uses the latest training techniques including supersets, pyramids and circuits to coax your body to its peak. Each workout download explains the exact combination of sets, rep ranges and rest periods you'll need to follow.
Click here to download the Venus Index Advanced Strength Series and own it for yourself.
Apps
Get Venus Index on your favorite mobile device and we will stay with you wherever you go.
Venus Index Mobile - iOS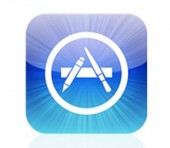 Venus Index finally on your iPhone and iPad. You can watch the howto videos and follow the workout routines right from your phone, submit the latest stats into the tracker and ask questions in the community without having to turn on your computer. With this little app you can access all forum threads and user updates inside the community and read all of the manuals and even listen to the podcasts directly from your iPhone or iPad. We will stay with you and support your progress no matter where you are. Click on the link below and download the app today. Make sure to update for the latest version.
Android Venus Index

With this little app you can access our Community directly from your Android powered phone or tablet. You can message with your friends, access every post and join the discussion, view the members' profiles and follow the blog updates of the AI contestants.
Finally you can do this fun stuff in your phone. We will stay with you and support your progress no matter where you are. Click on the link below and download the app today.
Recommended Stuff Not under our brand - Not included in the Immersion
Free Materials
Podcast Archive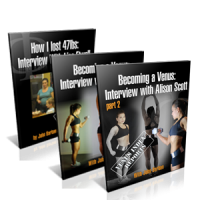 There are dozens of free audio podcasts and interviews with the past Venus Index contestants for you to listen to. They will share with you their best secrets, mistakes to avoid and tips on how to get in a contest shape.
If you are at a gym, why not also learn more about fat loss and toning your body while you are on a treadmill?
Whether you listen to the podcasts in your car, in the gym while training or at your sofa, you will get information about training, nutrition, body shaping most women never will.
Listen to the podcasts today and get cutting edge information that will help you get into the ideal body shape.
Other Materials
Adonis Index Systems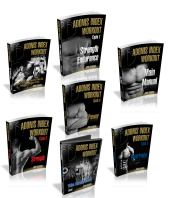 Do you have a man in your life that wants a new workout routine but doesn't know where to look?
… Or is he jealous of your progress and wants to build his ideal shape too?
Easy, just send him over to Adonis Index and we will take care of him…and in just 12 weeks, we will return him to you with a brand new body.
We have workouts for complete beginners as well as systems designed for experienced lifters who want to shake things up and make a real change in their workout routine and in their body.