VENUS INDEX PROGRAM CATALOG
Foundational Programs
The Venus Factor System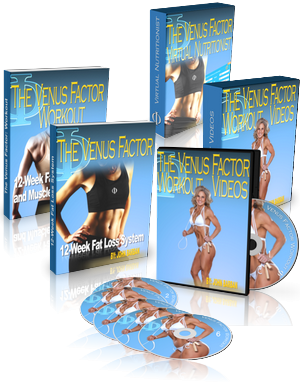 Looking for a good workout that will help you build your dream body, but not sure where to start?
You have come to the right place, because the Venus Factor System is the essential diet and fitness tools you need to get the body you want, while still being able to enjoy your life to its fullest.
You see, most programs for women don't address the real issue of shaping your body. They are either based only on diet and some abdominal work or work out your whole body the same way and completely neglect the most important factor – your naturally attractive shape.
It's absolutely crucial you make it a priority to aim for the your best shape based on your current body proportions and have a workout plan that is structured in a way that does this for you.
This is why the Venus Factor System is the number one choice for women who want to create an ideally proportioned body either at home or at the gym. No fuss, no wasted effort.
This is a 12 week workout and fat loss program. It is designed to get you started with life changing skills to help you get into the shape you have always dreamed of and keep it for life.
To get started at home all you need is a bench, a variety of dumbbells, an ab wheel, and a stability ball. Once you get started in the online community you can get a lot of other ideas on home equipment to add more variety and fun to your workouts.
Immersion
Immersion is our flagship product for increasing your results.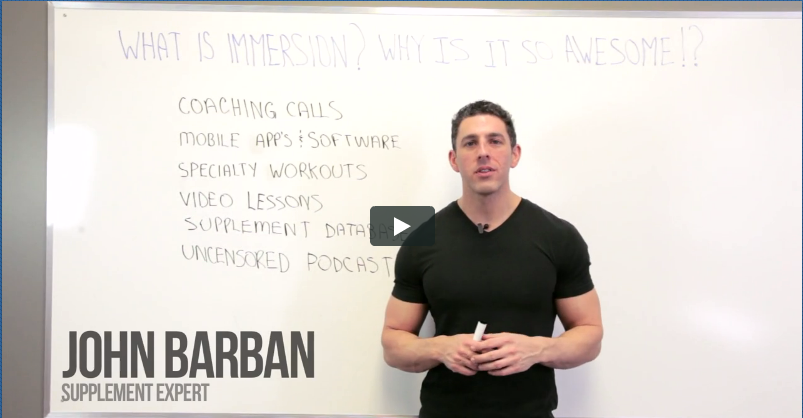 Here's what you get:
Personal attention from John Barban himself (our supplement insider and training expert who has decades of experience), who will help you solve your individual problems that might be holding you from achieving the ideal physique
Mobile apps and other cool software that will keep you connected with us and make your life and all the fitness stuff easier
Specialty workouts that are build for your individual goals
Video lessons to help you learn advanced technique and perfect form
Premium Access to the Paid Supplement Database from Renowned Natural Standard - These will come handy whenever you will want to learn the truth about any ingredient or supplement. You should always check before taking new supplements (may not be worth it), and once you get access to immersion, first thing you should do is to check the supplements you are taking right now, you might throw them out after reading the science on them
Instant access into the elite areas of the Venus Index Community
Over 100 Premium UNCENSORED Podcasts (access to past, present and future seasons as well) - This is what we are famous for (apart from our ridiculously amazing transformation pictures). We bring the brightest minds together and discuss the latest supplements and science findings (we don't read articles from journalists, we prefer to go right to the original source - the people doing the research). Want to know what marketing claims are BS? Want to know who is on drugs? Come and joins us this week for another episode of the uncensored podcasts and we will tell you
Access to Covert Nutrition Videos
Nutrition Calculator - With this really cool piece of software nutrition and losing fat will be way easier
Access to all the workouts - Phase 1, Phase 2 and Phase 3 PLUS the circuits and boosters!
Tracker - Tracker is a sophisticated software allowing you to log your fitness progress and track it using our sleek graphs.
In a nutshell you get everything that's under the VI brand and all the future releases for one payment.
Are we crazy?
Maybe, but we also know that if you get this package, you will get insane results. For example, I bet you didn't know that all of our contest winners have Immersion.
We will always be adding more awesome content to this package, however that means that the price will keep coming up. We have done this several times in the past, each time almost doubling the price and the girls were always regretting not acting on it sooner.
So take the offer today and save yourself some money and frustration in the long run.
Take advantage of the knowledge John Barban and Brad Pilon (and other team members) gained while studying exercise physiology and Human Nutrition at University of Guelph. Learn from their successes and failures from the past 15 years of hard and intense training and listen to their behind scene insights from the work with supplement companies and professional bodybuilders.
On this page you will find everything you need to successfully lose fat whether it's 50 pounds to get lean or 5 pounds to get contest ready, also you will find here the best workout designs ever created specifically to help you build your ideal body shape.
All advice is backed up by solid research, tailored to your current experience and your goals and usually comes with a risk free guarantee.
The Original Venus Index Systems are recommended first, the following are additional products or next level workouts for the VI members, alone they might not be as beneficial or if you haven't gone through the original workouts, they might just be too difficult for you, so we really recommend the VI system first.
Also, here's a tip: Instead of buying program by program, we encourage you to check out Immersion - get everything (even future program releases) at once and save some money at a same time. Scroll up to read the description and see the offer.
Additional Programs for VI All part of the Immersion Package
Elite Community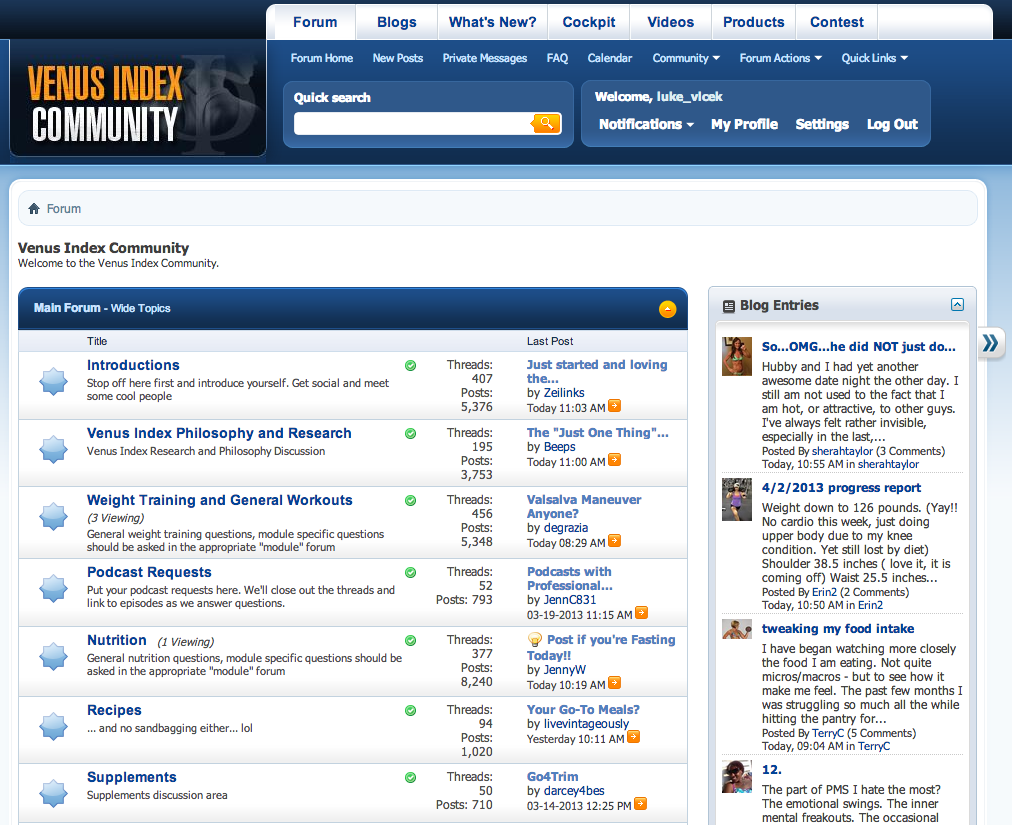 Introducing the best feature of Venus Index – The most honest and friendly fitness community in the world!
"If it wasn't for the community I would never have won the fitness contest" is a common thing to hear from our contestants. The Venus Index community is a strong a supportive community of strong supportive women.
A positive supportive community of like minded individuals is the key to success, nobody can do it alone.
Membership in this community will give you a rich environment full of caring, motivating and supportive women just like you. You'll find quick answer to any of your questions with different perspectives and approaches from multiple members. There are hundreds of past threads that will most likely hold answer to any of your basic questions. You will make great friendships and find new life opportunities. Many of our members have even meet up with each other in person and have formed bonds and friendships that have endured for years.
Join the Venus Index community and discover a new world of supportive dynamic women and you might just find a new lifelong friend.
And the best part? Buy ANY VENUS INDEX system and get access to the community for free!
Here's the login for VI and Immersion members:
If you are not a member scroll up to check out the offer.
Venus Index Circuits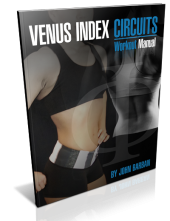 If you have done the original systems, you might be ready to take your body conditioning to the next level with the Venus Index Circuits.
It's not true that as a woman should never do an intense, "tough-as-nails" workout. Most women are lead to believe that lifting heavy and following intense and hard workouts leads to big bulky guy-like muscles. This is a like told to you buy people who are afraid to put some hard work into their bodies.
Working out intensely will burn more fat and condition your muscles at the same time. If you're pressed for time and need to get the double effect of muscle toning and fat burning in one workout then the Venus Index Circuits will do the trick.
Be prepared to work, but also be prepared for amazing results.
Venus Index Phase 3 Workouts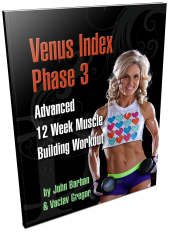 The toughest Venus Index workout yet.
Introducing Venus Index Phase 3
Are you prepared to take on the challenge?
This is a 12 week advanced strength training program with three different modules; each module is periodized with different rep and set schemes and builds on itself throughout the 12 weeks.
Warning: For experienced chicks only! You should complete the Venus Factor workout and Final Phase before attempting this new "challenge".
The Venus Factor Final Phase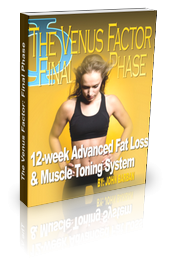 Introducing a brand new level of intensity and strength, while still keeping the goal of shaping your body and building your ideal VI proportions. The Final Phase is a new level for muscle building and conditioning.
With the new cycle shifts and constant challenge built into the the Final Phase workouts, you won't get bored anymore, guaranteed.
You can also cycle the Final Phase with other Venus workouts that you already have and been through, this opens doors to the whole new workout combinations.
This 12 week workout is designed to build on the work you have completed after the first 12 week Venus Factor workout. This phase incorporates two different pyramid routines along with specially designed supersets for serious muscle building and strength. This workout can be done at home or at the gym.
Slim in Seven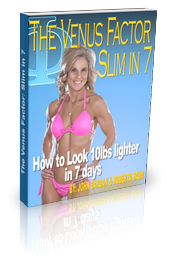 This manual is a specific step by step protocol for exactly 7 days for the purpose of dropping a significant amount of weight, tightening up the way you look, and getting prepped for a special occasion (where there is likely going to be photos taken!).
To be clear this is a full 7 day protocol meaning it is preparing you for an event on the morning/day of the 8th day.
This is a variation (less extreme) of the type of protocol fitness competitors will use to get ready for a show and present their best condition.
This is something you would use once you achieve your fitness goal. If you still have significant fat to lose please refer to the Venus Factor 12 week fat loss manual.
Venus Index Specializations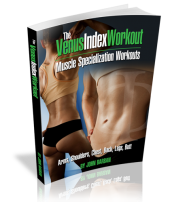 Every woman has slightly different genetic predispositions. This means that some of your muscle groups and 'body parts' are right where you want them to be, but others aren't exactly there yet. You'll find that some muscles respond really well to exercise but others seems to be stubborn and simply don't 'listen' when you workout.
For this reason we have the Venus Index Specialization workouts that provide targeted workouts for the 'body parts' that need the most work and the stubborn areas that need a bit of exrta attention.
Now you can focus on the areas of your body that you consider "lacking" or the one that just obviously needs more work.
Just add the Venus Index Specializations to your regular Venus Index workout routine and watch your body shape improve week after week.
Cookbook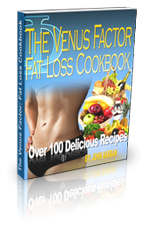 This is a book of common recipes that you will likely recognize but done as lower calorie options. There are options for breakfast, lunch, dinner, appetizers and desserts. Eating for weight loss can be enjoyable and very tasty with just a few key substitutions.
The goal of this manual is to give you lots options for cooking all kinds of different meals that you are already familiar with and like but with less total calories. And we've also tossed in some new ones that you might not have seen before (because variety and learning something new is never a bad thing).
Uncensored Podcasts
Get all the drug, bodybuilding, muscle building, fat loss, contest prep podcasts all in one package. Now you can get the whole season and you can listen to each episode whenever you want.
Go through the research interpretation and learn how you are manipulated by the fitness media and how they like to misuse new research to convince you to buy a certain supplement like a whey protein.
Discover what really goes on behind the scenes in the bodybuilding industry, what you really have to do to get to national level bodybuilding contests and how to prepare for a live or online fitness show and win.
If you want to get blown away by the eye opening information that everyone has been keeping from you until now get the uncensored podcasts today.
NEWS: Uncensored Podcasts Season 3 just started!
Prepare to be blown away by new ways of thinking about supplements and muscle growth.
Your beliefs are going to be challenged.
You are going to get fresh content that has never been discussed by anyone, anywhere publicly yet.
There will be two podcasts loaded with brand new research, take away points and ready to use tips, covering different areas of muscle development and fat loss each month.
If you thought first two seasons were eye opening, you will be left speechless after hearing about new ways of thinking about areas like muscle growth and even more dirty information about this industry.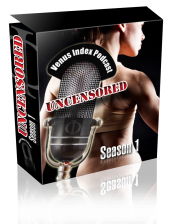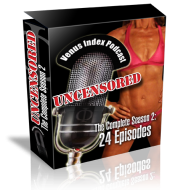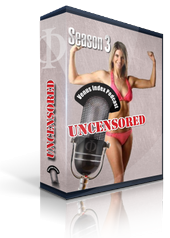 Advanced Strength Series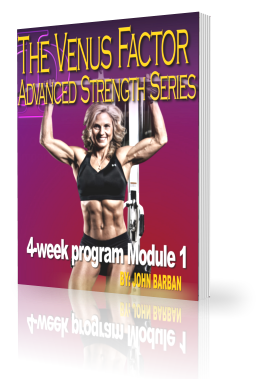 This is the first in a series of advanced workouts for strength and muscle shaping. You should be progressing to this program after you've completed any of the first 2 levels of the Venus Factor programs.
A 4-week workout program designed to both burn fat and shape your muscles to bring you to your ideal Venus Index measurements.
Level - Advanced
Program Design - 3-days per week whole body muscle conditioning and strength training combination
Booster Compatibility - Yes you can combine Venus Index muscle specialization booster programs with this program.
Apps
Get Venus Index on your favorite mobile device and we will stay with you wherever you go.
Venus Index Mobile - iOS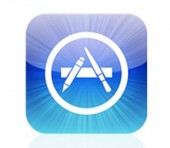 Venus Index finally on your iPhone and iPad. You can watch the howto videos and follow the workout routines right from your phone, submit the latest stats into the tracker and ask questions in the community without having to turn on your computer. With this little app you can access all forum threads and user updates inside the community and read all of the manuals and even listen to the podcasts directly from your iPhone or iPad. We will stay with you and support your progress no matter where you are. Click on the link below and download the app today. Make sure to update for the latest version.
Android Venus Index

With this little app you can access our Community directly from your Android powered phone or tablet. You can message with your friends, access every post and join the discussion, view the members' profiles and follow the blog updates of the AI contestants.
Finally you can do this fun stuff in your phone. We will stay with you and support your progress no matter where you are. Click on the link below and download the app today.
Recommended Stuff Not under our brand - Not included in the Immersion
Free Materials
Podcast Archive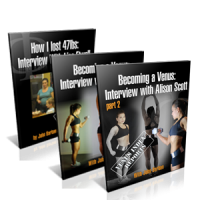 There are dozens of free audio podcasts and interviews with the past Venus Index contestants for you to listen to. They will share with you their best secrets, mistakes to avoid and tips on how to get in a contest shape.
If you are at a gym, why not also learn more about fat loss and toning your body while you are on a treadmill?
Whether you listen to the podcasts in your car, in the gym while training or at your sofa, you will get information about training, nutrition, body shaping most women never will.
Listen to the podcasts today and get cutting edge information that will help you get into the ideal body shape.
Other Materials
Adonis Index Systems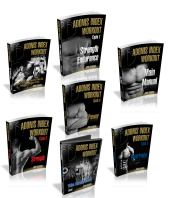 Do you have a man in your life that wants a new workout routine but doesn't know where to look?
… Or is he jealous of your progress and wants to build his ideal shape too?
Easy, just send him over to Adonis Index and we will take care of him…and in just 12 weeks, we will return him to you with a brand new body.
We have workouts for complete beginners as well as systems designed for experienced lifters who want to shake things up and make a real change in their workout routine and in their body.